We haven't removed much from Polaris to Sirius, but here's the poor apps that didnt make the cut.
pi-topDASHBOARD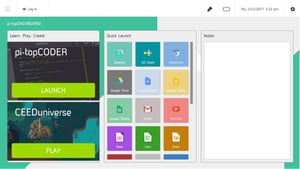 You'll notice that when you boot up the OS it will dive straight into the Desktop. That's because we've removed pi-topDASHBOARD. The result is a much cleaner looking Desktop, and less overwhelming for all our users. pi-topDASHBOARD took a little too much performance for our liking and there wasn't a good compromise for keeping it. Instead the Search Portal has replaced some of its functions
CEED Universe
CEED Universe unfortunately didn't make the cut either. It was always stuck in its Beta Mode and without enough demand, we decided to cancel development on it. We haven't made it available in its current state for everybody to use, as it will take quite a bit of work to make it playable on any OS. However, if you would like to see it re-emerge (in its Beta state) then please let us know (either email support@pi-top.com or submit a ticket on the support page).