Connect your Raspberry Pi or other devices to your FHD Touchscreen using the FHD Adaptor
The Display Adapter is not a USB-C Hub and cannot be used as one. Other USB-C hubs cannot replace the Display Adaptor either.
All pi-top FHD Touch Displays come with a Display Adapter, a handy adapter that allows you to connect your screen to multiple devices, from your pi-top [4], to a Raspberry Pi on its own, or even your own laptop.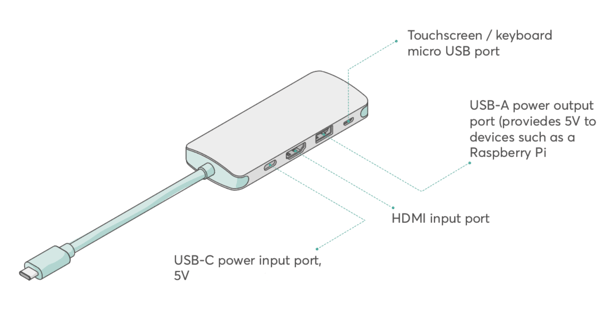 | | | |
| --- | --- | --- |
| Input Port | Descriptions | Guide |
| USB-C | Provides power to the FHD Touchscreen. | Connect a 5V Power Supply Unit (maximum 3A fuse inside touchscreen) |
| HDMI | Connects the display from your device to your FHD Touchscreen | Using an HDMI cable, connect the FHD adaptor to your device HDMI output |
| USB-A | Provides power to your Raspberry Pi if you are using one | Connect to the Micro-USB/USB-C output in your Raspberry Pi. (Not needed for self-powered devices) |
| Micro-USB | Allows for use of the touchscreen with your 3rd party device | Connect this Micro-USB port to your device's USB-A port |