Get the latest software, and keep your device secure!
It's important to keep software on your pi-top up-to-date, as this helps to ensure that you have the latest features, bug fixes, and security improvements.
Checking For Updates
pi-topOS makes running a software update easy - the latest version checks for updates once a day whenever it detects an internet connection, and shows a notification when there are updates to install.
If you want to manually run an update, then go to the Menu, System Tools and then click Check for Updates: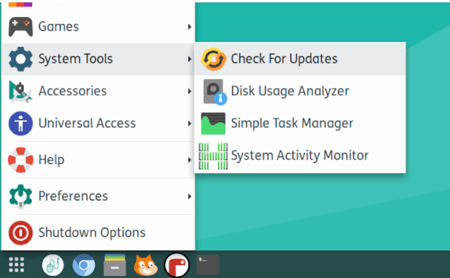 It may take a few moments for the update check to start after clicking the icon!
Previewing/Performing The Update
Selecting "Preview Updates" will allow you to take a look at the changes that the update will make to your system, before asking you if you would like to continue.
"Preview Updates" can be useful if you have custom software with complicated dependencies, or if you would like to know more about how the updates are affecting your machine, such as when a previous attempt to update was unsuccessful, for example.
Earlier versions of the updater are not able to remove dependencies. Consequently, updating from an earlier version of pi-topOS may have issues - please check the Troubleshooting section for help with this.
Most of the time, you will want to simply click "Update Now" ("Upgrade Now" on earlier versions).
Be careful about interrupting the updates or exiting the update service in the middle of updates as this may cause your system to enter into a partially-updated state, which can cause further problems.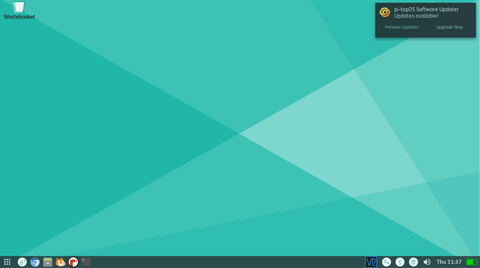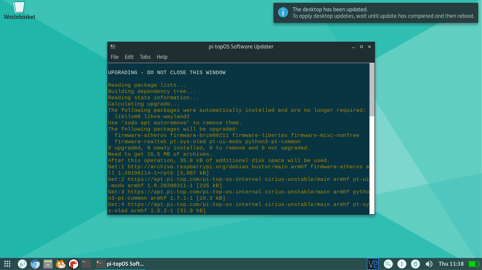 Troubleshooting
Check out our Update Troubleshooting page for help.
Most problems can be solved by reinstalling the operating system on your SD card. Always use the latest OS available to you - preferably, from our website.
Reinstalling the OS on your SD card will mean that your files will be lost, and will have to reinstall/reconfigure any software you had installed before. Remember to back up your files to a USB stick/flash drive or some other external storage before doing this.